Bali Wedding Flags
Bring a Touch of Bali Style and Elegance To Your Special Day
Save $$$ When you purchase either 4 or 6 flags with or without our Poles

Plus Free Postage on All Orders Over $200 (excluding umbrellas)
(Umbrellas flat fee $50.00)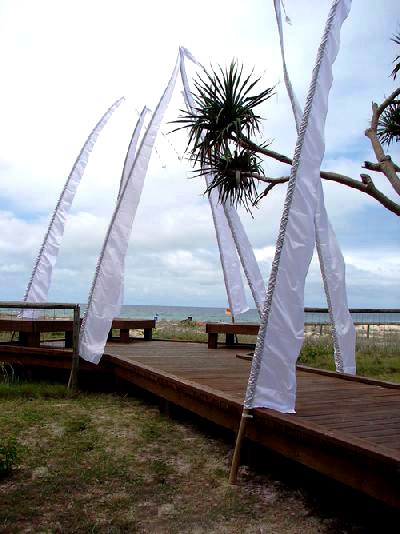 These beautiful high quality tall White, Cream, Red Gold or Cream Gold Bali wedding flags are the Genuine Balinese Umbul Umbul Flag Proudly made by traditional flag makers in Bali.Ideal for beach or garden weddings and special events.

We fell in Love with them for their gracefulness, and our brides comments range from, beautiful, elegant, happy, pure, spiritual and memorable.
Additional Information
Five and 7 metre Bali flags are the most majestic and will give you great visability and impact. The genuine traditional Balinese flag is always at least 5 - 7 metres tall. A 5 metre flag will have approximately 4.5 metres on the pole and a half metre tail at the top to swing in the breeze. A 7 metre flag will have approximately 5.5 metres on the pole and a 1.5 metre tail to swing in the breeze. Mini and 2 metre flags are most commonly used to create smaller features, such as aisles or wwalkways. Five and 7 metre flags can be purchased with or without our custom designed fibreglass flag poles, whilst 2 metre flags (sold in pairs) are provided with their own small sticks.
Our custom designed fibreglass flag poles for the 5 & 7 metre flags fold down to 1 metre for storage and transport and easily extend out to the desired length. If mointing on sand, turf, soil or lawn, you may also consider our optional pole spikes. These are hammered into the ground leaving approximately 40 centimetres above ground for the pole to slide over. They will make your install easy and secure.

As these flags are manufactured from parachute silk, a light durable material, if used everyday, subject to extreme weather conditions, they will have a life expectancy of approx 6-10 months. Whilst the fibreglass poles with some care will last you for years.