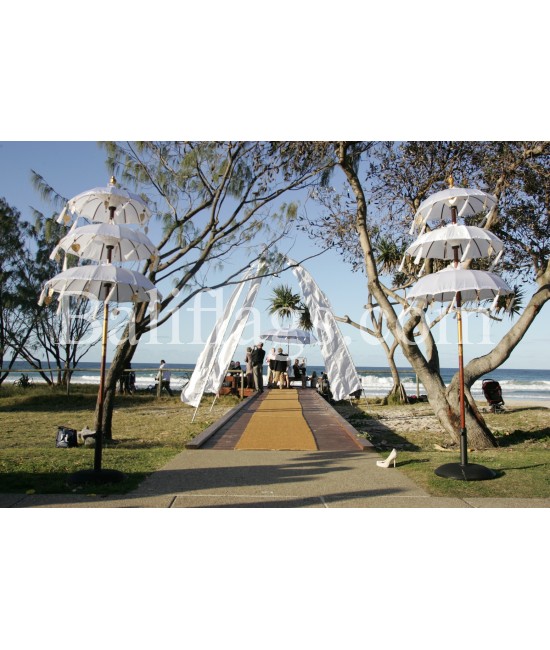 AUD 856.00
Ex Tax: AUD 856.00
In Stock
Product Code: Umbrella

The Ultimate White Bali Wedding Package
Free Postage all flag/pole orders over $200.00
Do you deserve the best? It is your special day.
Then let your imagination run wild and arrange this beautiful package for the most important day in your life.
Our wedding stylists have put this together to give you the ultimate look for this very special time. It is based on some of our most popular products and has been created to both save you some money, but more importantly, know that you will have the most stylish decorations and shade to create memories that will last a life time.
Complete with 4 x handmade White 7 metre traditional Bali flags, with a heart on the end of each flag, 4 x custom designed poles, that fold down to 1 metre for ease of transport, and guaranteed to make your flags hang correctly, 4 pole spikes for ease of pole mounting. Seven metre flags are the largest and most majestic of all Bali flags. Two triple tiered umbrellas, hand adorned with bells and tassels, and completed with 1 x large 3 metre White handmade beautiful Balinese umbrella, which could just end up in your garden after the event to keep bringing back fond memories.
This complete package can be delivered to your door and is ready to go. Please note, price does not include freight, or umbrella stands, so email us with your address and we will confirm freight costs, as it does vary depending on country and location.
**** Please Note These Beautiful Packs Sell out quickly. If you are considering one please contact us to confirm availability*****
Save $200.00