Authentic Genuine Handmade Bali Umbrellas
We are still shipping Worldwide during this Current PandemicA large balinese umbrella or genuine Temple Umbrella is stylish and beautiful in its appearance. Nothing brings the tranquilty and beauty of Bali into your garden or special event like handmade large bali umbrellas. Maybe you are considering these for your garden, business or some shade and character as a Wedding Umbrella or to complete your baliflags installation. We can also supply bali umbrellas wholesale in larger quantities, so do not hesitate in contacting us direct. These beautiful bali umbrellas for sale are each handmade just outside Ubud in Bali and are shipped daily from our balinese umbrellas Australia warehouse either with local couriers or Express International airfreight

Just like our bali flags manufactured from top quality parachute weatherproof material, solid timber posts with gold embossing and topped off with a carved Gold Embossed crown. Underneath you will see ornate webbing and genuine bamboo ribbing, whilst the edges are embellished with Bells, Tassles and Metalic hearts.

We are currently shipping daily to USA, Canada & Australia with DHL Express for a flat $50.00 freight fee.

New Purple & Dark Green Have Also Arrived


As these are handmade and not mass produced stock is only available in very limited numbers.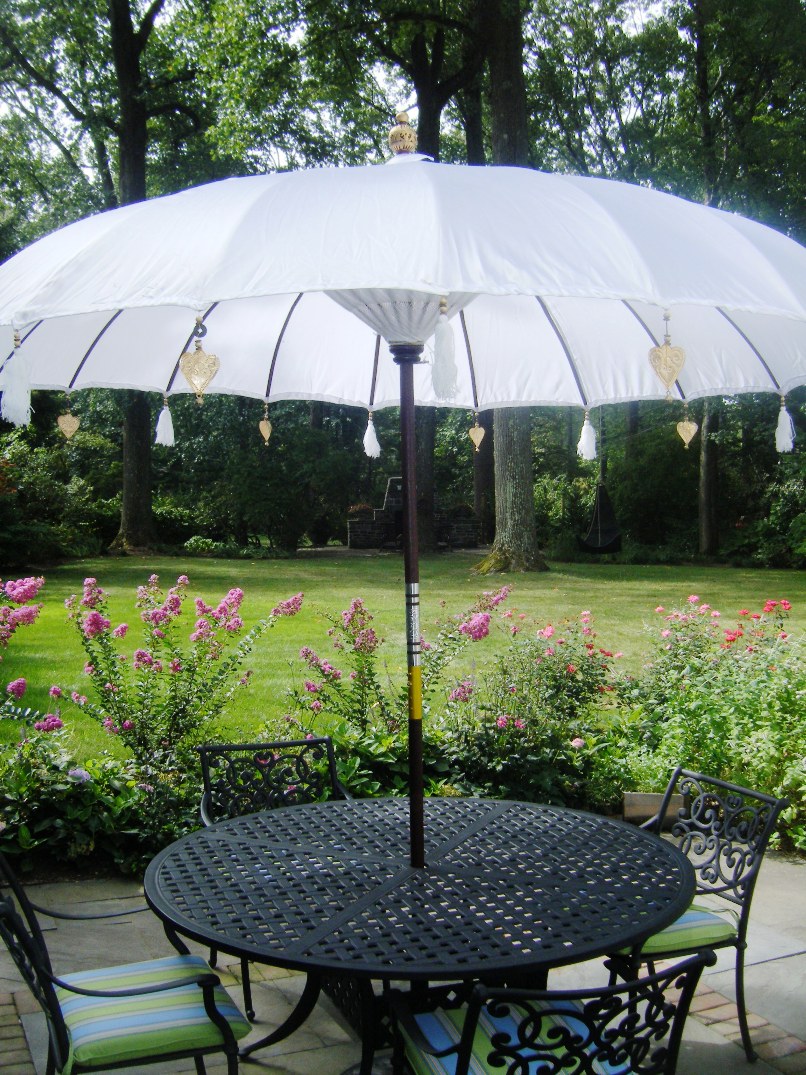 Avaialable in 2 sizes and 6 colours. The extremly rare 3 metre (9.8 feet) wide large umbrella (pictured) which is also ideal for creating shade and also our large 1 metre wide (3.3 feet) Triple Tier Balinese temple style umbrellas.
Testamonial Patty B California USA
Graham, I can not believe my luck that I just happened to stumble upon your website. I've been searching high and low for balinese umbrellas like these and to receive these all the way from Australie in less than 2 weeks is mind blowing! They will be flanking my hot tub, perched in concrete elephant stands. An early birthday gift to myself. I can't thank you enough!